Peter Tscherkassky's CinemaScope Trilogy. Commissions to young composers @ ManiFeste
06/2019
Ircam – FR
Peter Tscherkassky's CinemaScope Trilogy
Commissions to young composers @ ManiFeste 2019
Wednesday, June 19, 2019, 20h30, Centre Pompidou, Grande salle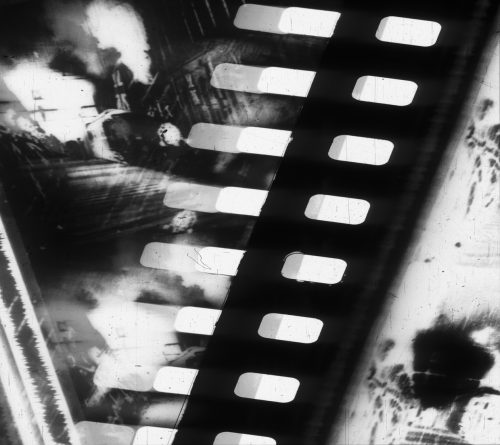 In the framework of a network-wide project, that started in 2017 already, and that connects the Cinemascope Trilogy by Austrian avant-garde filmmaker Peter Tscherkassky's with new compositions by young composers featured in the ULYSSES Network program, IRCAM is following up on 19th June 2019 during a special evening programmed at Centre Pompidou, at the occasion of the ManiFeste-2019 Festival, and with several World and French premieres.
Four ULYSSES Network partners have commissioned two new works each for the Israeli-Swiss Ensemble Nikel:
IMD commissions: Clara Iannotta, Simon Løffler
Gaudeamus commissions: Boris Bezemer, Mikołaj Laskowski
impuls commissions: Mirela Ivičević, Julien Malaussena
IRCAM commissions: Javier Elipe Gimeno, Ariadna Alsina
During this performance evening in Paris, the Ensemble Nikel will rerun compositions by Clara Iannotta and Simon Løffler, first performed in Darmstadt in July 2018, as well a the 2 electronic miniatures composed by laureates Sandra Wuan-chin Li and one composer still to be selected in the framework of a call organized by the ULYSSES Partner impuls and premiered in February 2019.
Peter Tscherkassky
Ensemble Nikel (electric guitar, percussion, saxophone and piano)
IRCAM Computer Music Design: Carlo Laurenzi
PROGRAMME:
Peter Tscherkassky: Cinemascope Trilogy
L'Arrivée, electronic music by Sandra Wuan-chin Li, French Premiere
Dream work, music by Simon Løffler, French Premiere
Outer space, music by Clara Iannotta, French Premiere
Man Ray: Le Retour à la raison
Intermission
Peter Tscherkassky : Cinemascope Trilogy
L'Arrivée,  music by Joan Gomez Alemany, French Premiere
Outer space, music by Javier Elipe Gimeno, World Premiere
Dream work, music by Ariadna Alsina Tarrès, World Premiere
Man Ray : Ce qui nous manque à nous tous
Ircam/MNAM/Les Spectacles vivants-Centre Pompidou Coproduction.
Supported by the ULYSSES Network, co-funded by the Creative Europe Program of the European Union.
organized in partnership with
Gaudeamus - NL
IMD - DE
impuls - AT