Academy Voix Nouvelles 2016 – Young Composers & Performers
08/2016
Royaumont foundation – FR
The Académie Voix Nouvelles (New Voices) is open to composers and performers wishing to hone their skills in the interpretation of the contemporary repertory.
For composers, it recreates the complete process of creation of a new work, in professional conditions: commission, composition, rehearsals, concert, under the supervision of internationally renowned tutors belonging to different aesthetics. It calls on the leading ensembles to rehearse and perform the works and to advise and interact with the composers.
The performers will benefit from the advice of the expert musicians of the guest ensembles in individual classes rehearsing chamber or solo repertory. They will make up an ensemble that will rehearse and perform in concert emblematic works from the contemporary literature as well as some of the work produced by the composers of the workshop.
In its duration and its exceptional working conditions, the academy constitutes a unique forum for exchanges between composers, performers and thinkers. Several specialists in the domains of management, musical production economics, author rights, the record industry, radio and journalism will also be invited.
The participants work with the following tutors and ensemble:
James Dillon
James Dillon first musical experiences came from playing in traditional Scottish pipe bands and in rock groups. He studied art and design at the Glasgow School of Art in 1968 and north Indian music at the University of Keele (Ti.re-Ti.ke-Dha, for percussion (1977), is rhythmically influenced by this experience) and then moved to London in 1970 to study music, acoustics and linguistics there. He is essentially self-taught as a composer.
After winning first prize for composition at the 1978 Huddersfield Festival, he attracted attention in 1982 with Who do you love and Parjanya-Vata (the latter won the Kranichsteiner Musikpreis in Darmstadt).
Raphaël Cendo
Born in 1975, Raphaël Cendo studied piano then composition at the Ecole Normale de Musique in Paris, where he earned his diploma in 2000. He enrolled in the composition class at the Paris Conservatoire in 2003 and was awarded a degree in composition, analysis and orchestration. He pursued his studies with the annual degree course in composition and musical computing at IRCAM, which he completed in 2006. Raphaël Cendo received tuition from Brian Ferneyhough, Fausto Romitelli and Philippe Manoury, and was a pensioner at the Académie de France in Rome (Villa Médicis) from 2009 to 2011.
Pierluigi Billone
Born in 1960 in Italy, Pierluigi Billone lives in Vienna. He studied composition with Salvatore Sciarrino and Helmut Lachenmann. Billone's music has been performed by relevant interpreters in festivals such as Wien Modern, Festival d'Automne Paris, Donaueschinger Musiktagen, Wittener Tagen für neue Kammermusik, Eclat-Stuttgart, Ultraschall-Berlin, Musica Viva München, TFNM Zürich, Ars Musica Bruxelles, Huddersfield NMF, World Music Days Wroclaw, Biennale Zagreb, Boston, New York, Monday Evening Concerts Los Angeles, Bendigo Festival Sydney.
Jean-Philippe Wurtz
Jean-Philippe Wurtz is a performer actively committed to creation. He has given more than three hundred world premieres, including works by Peter Eötvös, Klaus Huber, Philippe Manoury, Brian Ferneyhough and Raphaël Cendo; he founded the Ensemble Linea in 1998. He also has a busy schedule as an educator, notably in collaboration with Peter Eötvös, at the Académie de l'Ensemble Linea and at the Haute Ecole des Arts du Rhin.
Ensemble Talea
Talea Ensemble has been labeled "…a crucial part of the New York cultural ecosphere" by the New York Times. Recipient of the 2013 CMA/ASCAP Award for Adventurous Programming, the ensemble has given many important world and US premieres of new works by composers including Pierre Boulez, Tristan Murail, Olga Neuwirth, John Zorn, Unsuk Chin, Rand Steiger, Beat Furrer, and Fausto Romitelli.
Ensemble vocal Exaudi
The vocal ensemble EXAUDI was founded in 2002 by the composer and conductor James Weeks and the soprano Juliet Fraser. This group of young British singers and their conductor place the music of today at the core of their repertory, performing works by such composer as Salvatore Sciarrino, Wolfgang Rihm, Michael Finnissy, Richard Ayres, Christopher Fox and James Saunders.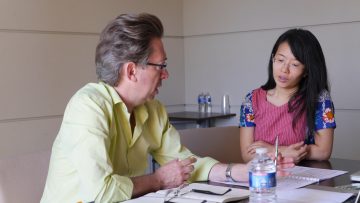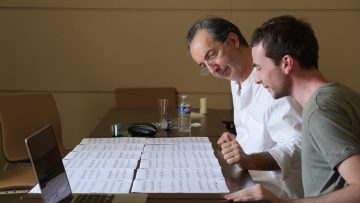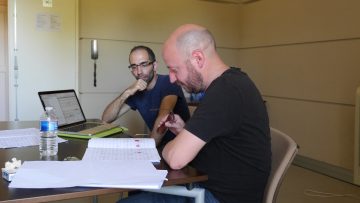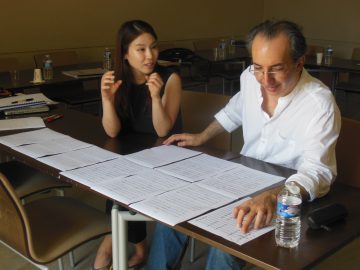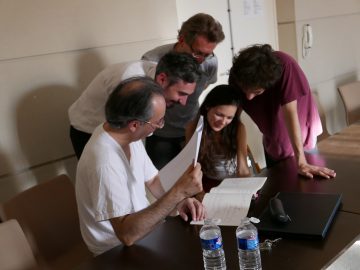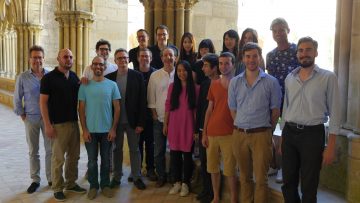 © Fondation Royaumont/ J.P.Wurtz
+++
CALENDAR
Composers – from 21 August to 9 September 2016
Performers – from 30 August to 9 September 2016
Public presentations at Royaumont Foundation (FR)

Soloists Voix nouvelles : Fenêtre sur cour(s) – Friday 2 September 6:00 pm
Ensemble Voix nouvelles : Fenêtre sur cour(s) – Friday 9 September 5:00 pm
Ensemble Talea and Exaudi : Fenêtre sur cour(s) – Friday 9 September 7:00 pm
Ensemble Talea and Exaudi : Fenêtre sur cour(s) – Friday 9 September 8:45 pm
+++
The selected participants are:
14 Composers
Mael Bailly (France, 1988)
Utku Asuroglu (Turquie, 1986)
Edo Frenkel (Etats unis 1988)
Edwin Hillier (Royaume Uni, 1988)
Yu Kuwabara (Japon, 1984)
Amadeus Regucera (Etats unis 1984)
Huihui Cheng (Chine, 1985)
Emanuele Palumbo (Italie, 1987)
Jason Thorpe Buchanan (Etats unis, 1986)
Dahae Boo (Corée du Sud, 1988)
Eiko Tsukamoto (Japon, 1986)
Gerardo Gozzi (Italie 1988)
Silvia Pepe (Italie, 1988)
Adrien Trybucki (France, 1993)
10 Performers
Benoit Morel – violist
Krista Low – cellist
Yuka Togashi – clarinetist
Nestor Bayona – conductor
Antonin Rey – conductor
Yuri Matsuzaki – flutist
Camille Merckx – singer
Kanae Mizobuchi – singer
Chie Otsuka – pianist
Winnie Wang – violinist