Opus XXI-Summeracademy and CoPeCo-Pilot Week
08/2016
HfMT – DE
Four European Music Academies have created a common master for Contemporary Performance and Composition (CoPeCo) in 2014: The University of Music in Hamburg, Germany; The Eesti Muusika- ja Teatriakadeemia in Tallinn, Estland; the Kungliga Musikhögskolan in Stockholm Sweden and the Conservatoire National Supérieur Musique et Danse in Lyon, France.
The first students are completing their masters this year in Hamburg.
From 22. 8. – 29. 8.2016 six new CoPeCo students that start their studies in Tallinn in fall 2016 meet at castle Spetzgart (DE) together with 2 singers and 16 instrumentalists from Hamburg, Berlin, Trossingen and Lyon in order to explore improvisation, new chamber music, cultural management and composition.
At the occasion of this summer academy, composition courses are led by the artistic director of the academy Fredrik Schwenk and Henry Fourès, artistic co-director, Clarinetist Jean Marc Foltz will teach improvisation, Donatienne Michel-Dansac is the vocal coach and Elisabeth Gutjahr will lead courses in movement and mental training, Reinhard Flender is responsible for career coaching.
Four musicians from the Kammerensemble Neue Musik, Berlin are present in order to support the teaching team.
Works from Berio, Boulez, Cavanna, Crumb, Ferrari, Hölszky, Lachenmann, Mantovani, Rihm and Schiphorst will be rehearsed and presented at the end of the academy.
The Copeco projects will be shown in public places, the chamber music will be presented at the International School of Salem on August 28th.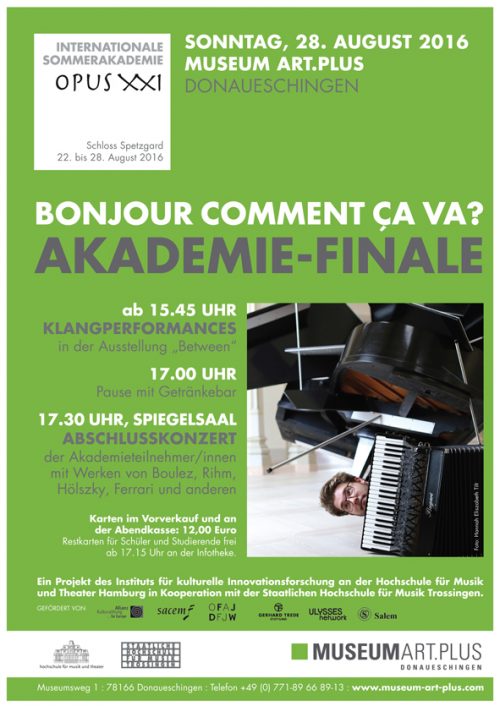 More information here.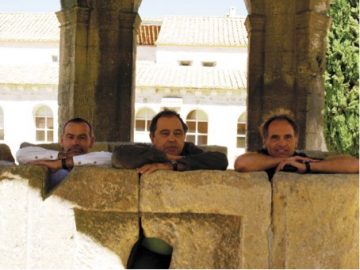 Fredrik Schwenk, Henry Fourès, Reinhard Flender
© Patricia Gläfcke