Trio Accanto & Young Chamber Ensembles
07/2016
Time of Music – FI
Trio Accanto mentors chamber music course in July 5-10 at Viitasaari Time of Music. The course is foremost for already existing (non-conducted) young chamber music formations and solo instrumentalists.
The core repertoire of the course is music written after 1950.
About 10 course participants will give a short concert at the end of the course as a part of Time of Music programme.
Further information available here.
You can find a short video about the Time of Music festival and its different courses and activities here (with some impressions from the Trio Accanto Chamber Music workshop at 2'55").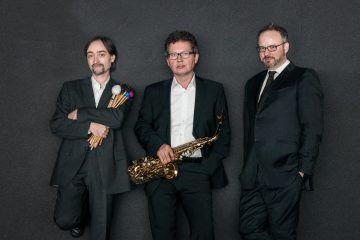 © Marc Doradzillo
The Trio Accanto exists since 1994 and has become one of the most noticed ensembles of contemporary music. With over 70 first performances of works by composers of many nationalities Accanto has created an extensive repertory for this formation. The list also includes works for the trio as a group with orchestra by composers like Salvatore Sciarrino, Toshio Hosokawa and others. Trio Accanto is saxophonist Marcus Weiss, pianist Nicolas Hodges, and percussionist Christian Dierstein. All performers are also noted soloists on the repertoire of their instruments.
Enregistrer
Enregistrer
organized in partnership with
impuls - AT