ManiFeste 2016 – In Vivo Electro
07/2016
Ircam – FR
The circus artist Jérôme Thomas and the composer Mauro Lanza are offering the opportunity to 4 young composers to work with the stage set from the piece HIC: 4 people manipulating objects combine the tools that give life to dreams and seemingly impossible situations of surrealistic juggling.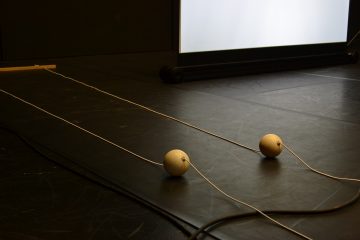 © Natacha Moënne-Loccoz
During the In Vivo Electro workshop, the Compagnie Jérôme Thomas and the selected composers will test together the installation of a poetic visual universe on stage, a universe that is both burlesque and musical, considering what should be shown and what should be hidden, in terms of gestures on stage and writing the electronics.
Selected composers: Stanislav Makovsky (Russia), Luca Scapellato (Italy), Guillaume Tiger (France)
Public presentation of the workshop results:
2nd July 2016, 6pm at Centquatre, Paris (FR)
Selected works from the workshop are presented again to the public on 12th December 2016 at Centre Pompidou, Paris (FR).
Creations from the Composition Workshop led by Jérôme Thomas and Mauro Lanza

Creations by Student Composers (biographies below) :
Stanislav Makovsky (Russia) – Elastiques (2016) 20′
Luca Scapellato (Italy) – Cannes (2016) 19′
Guillaume Tiger (France) – PLAK (2016) 23′


IRCAM-Centre Pompidou, ARMO/Compagnie Jérôme Thomas coproduction.
IRCAM and the CENTQUATRE-Paris are partners for experimental performance projects. With the support of the SACD.
© IRCAM
Composers Biographies :
Stanislav Makovsky (Russia, 1988)
Stanislav Makovsky studied cello and musicology in the Kemerovo Music College and then compo- sition in Moscow State Conservatory (2008-2013) with Yuri Kasparov. He then went on to study as a composer and improviser in The Conservatoire de Paris (CNSMDP) with Stefano Gervasoni (com- position), Luis Naón, Tom Mays and Yan Maresz (electronic composition), Vincent Le Quang and Alexandros Markeas (improvisation). Stanislav took part in the first Moscow Ensemble Academy in Tchaikovsky City (2011), the Darmstadt Ferienkurse (2012), and the Voix Nouvelles at the Fondation Royaumont (2014). His music is regularly performed in Russia and abroad by dif- ferent ensembles such as Ensemble Recherche, Neue Vocalsolisten Stuttgart, MCME, Studio for New Music Ensemble, GAMEnsemble, The XX Century, Ensemble Nostri Temporis, Cantando and others. Stanislav Makovsky was a composer in residence at the Château de Lourmarin, France (2014-2015) and is the winner of several interna- tional competitions.
Luca Scapellato (Italy, 1985)
Musician, composer, sound engineer, sound desi- gner, and video artist, Luca writes and composes music for theatre, dance and video and has worked with several well-known artists from the Italian art scene, including the companies Tam Teatromusica and AiEP as well as the Centro Sperimentale di Cinematografia. As a musician he performs live with various ensembles around Italy and Europe. Starting from the study of jazz and improvisation and combining it with a pas- sion for computer science and technology, Luca developed his interest in experimenting with sound-based interactive systems for creating electronic music and audiovisual performances. He recently produced the music for the contem- porary dance performances Everything is OK by Marco D'Agostin and MECANIQUE by Camilla Monga.
Guillaume Tiger (France, 1983)
Born in Tours and living in Paris, Guillaume Tiger is a sound designer, a digital-audio teacher, and composer. He holds a Master's degree in sound conception from the école nationale du jeu et des médias interactifs numériques (2009) and a PhD from the Conservatoire national des arts et métiers (2014) for his work in granular synthesis applied to interactive environments. In addition, he carries out work on instrumental practices (percussions) and composition. In 2007, his first album was released (Cocoon of red light, under the pseudonym Isothesis), compiling 5 impro- vised analog sound sculptures. His second album, Stern und Opium, was released in 2015 and offers two electronic pieces in which the real and the synthetic are intertwined with a soundscape in constant evolution. His compositions, often under a dreamlike veneer, represent a stance where the constant transformation of textures, timbres, and densities create a vanishing point.
Enregistrer
Enregistrer
Enregistrer
Enregistrer
Enregistrer
Enregistrer