ULYSSES Journey for Young Performers: Ensemble Schallfeld
07/2016
IMD – DE
The Darmstadt Summer Course is offering a special coaching program for young ensembles with a variety of formats (instrumental and ensemble coaching, reading sessions, ensemble composition workshops, open rehearsals, Open Space or concert presentations etc.).
The Graz based ensemble Schallfeld is one of three groups that IMD has chosen for the 2016 issue. All ensemble members are granted partial scholarships for the Summer Course. Founded in 2011 by former Klangforum Wien students, Schallfeld's members come from five different countries and act as a free collective of soloists, performing in different formations.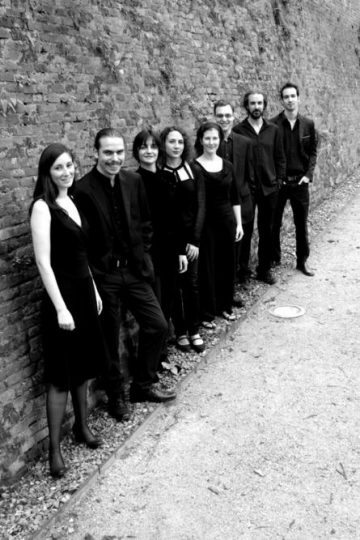 Photo © Ensemble Schallfeld
At the Darmstadt Summer Course, Ensemble Schallfeld will hold a two-week working phase and will be involved in workshops with Jorge Sánchez-Chiong and Francesco Filidei, as well as working on various projects with young composers.
Like the ensembles Mocrep (USA) and We Spoke (CH/GB), Schallfeld was invited to use this year's course as a two-week platform for working and networking. Schallfeld will also present themselves in a self-curated showcase and has chosen music including works by Franck Bedrossian, Richard Barrett as well as music from their composer members.
The second part of Ensemble Schallfeld's Ulysses Journey will be a residency at festival impuls (A) in 2017.
+++
70 Years: 1946 – 2016
International Summer Course for New Music (29 July to 14 August 2016)
At more than 65 public events, the 48th International Summer Course for New Music (29 July to 14 August 2016) will present some 40 premieres, including more than ten works commissioned especially for this year's anniversary festival. A number of artistically highly diverse projects – like for example the large-scale project historage – 7 places, 7 readings – are offering artistic responses to the seven decades of Darmstadt's history and also to the digital archive of the Darmstadt International Music Institute (IMD), which has been established extensively in the last few years. The motto "Music in the Expanded Field" will be at the center of the program, predominantly with new commissioned works in which performance, venue, light, sound motions, audience movements and many other factors combine to create a composite audiovisual experience. On the theoretical side, the international conference EXCESS: Forum for Philosophy and Art (4 – 7 August 2016) will establish one of the course's focuses.
With over 60 tutors, the 2016 Darmstadt Summer Course will offer an extensive program of tuition and workshops, from classes in composition and various instrumental disciplines, via workshops at the "Atelier Elektronik" and a writing workshop for young music journalists, to experimental projects. Roughly 450 participants from some 50 nations will be expected in Darmstadt between 29 July and 14 August 2016.
Tickets for the concerts as well as the regularly-updated program can be found at www.internationales-musikinstitut.de/en/program2016
Supported by Kulturstiftung des Bundes, Kulturfonds Frankfurt RheinMain, Jubilee Foundation of the Darmstadt Sparkasse, Ernst von Siemens Musikstiftung, Allianz Kulturstiftung, Merck'sche Gesellschaft für Kunst und Wissenschaft
as well as many other supporters and sponsors
IMD is a culture institute of the City of Darmstadt.
organized in partnership with
impuls - AT