Ensemble Kluster 5 in residence – New works by young composers
08/2017
Gaudeamus – NL
Ensemble Kluster5  is the ensemble-in-residence at Gaudeamus Muziekweek 2017.
In the framework of the ULYSSES Journeys for composers the young Greek composer Georgia Koumara (Thessaloniki, 1991)  joins the Gaudeamus Academy to work with the members of the ensemble on a new composition.
The Academy takes place in Utrecht, the Netherlands, from 31 August to 6 September 2017.
The 5 candidates for the Gaudeamus Award 2017 (Aart Strootman, Sky Macklay, Ivan Vukosavljevic, William Dougherty, Chaz Underriner) also write a new work for the ensemble and all 6 composers will be guided in their work by 3 elder composers: Christopher Trapani, Joe Cutler and Mayke Nas.
The 6 new works are performed during the festival Gaudeamus Muziekweek, which takes place from 6 to 10 September 2017 in various venues in the old city of Utrecht, the Netherlands.
Further information here.
On 5th February 2018, on Concertzender, you can listen to a broadcast of the live-recordings from the concerts of 7th and 8th September 2017!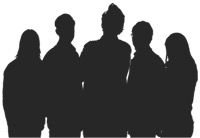 Ensemble Kluster5 is a young Dutch ensemble, based in The Hague.
Their instrumentation is violin, saxophone, percussion, piano and electric guitar and their repertoire stretches out from new works by young composers to crossover styles such as improvisation and jazz.
They have also been active in music theatre and dance performances, such as Workers Union by Louis Andriessen in a choreography by Regina van Berkel.
Enregistrer
Enregistrer
Enregistrer
Enregistrer
Enregistrer
Enregistrer