Young Audiences – Giocare la Musica
11/2016
Divertimento Ensemble – IT
A project of Divertimento Ensemble, Milan (IT)
Involved partner: Flagey Festival, Brussels
Dates in Milan: from November 2016 to May 2017
Venue in Milan: concert at Teatro Leonardo on May 21, 2017
Dates in Brussels: from September 2017 to May 2018
Venue in Brussels: Flagey, May 2018 (tbc)

The new edition of Giocare la Musica, workshop for "non musician" children organised every year by Divertimento Ensemble, has started in Milan on November 2nd, 2016.
A big group of children will enjoy the 2016/17 laboratory: 64 kids (aged 8-10) will meet with the tutors Giulia and Cristiana every Wednesday until May.
They are practising music without reading and writing notes, are getting acquainted with sounds and rhythms of today's music using their voices, their bodies and some simple instruments; and they will meet soon the composers Roberto Andreoni and Daniela Terranova… An amazing experience!
At the end of the workshop, on May 21st, 2017, the kids will perform in a public concert two pieces by Roberto and Daniela, written for children and ensemble: on the stage of Teatro Leonardo in Milan, Sandro Gorli's baton will conduct the kids and Divertimento Ensemble. The concert takes place within the Rondò concert season: in the audience we will find Divertimento Ensemble's usual public and many excited parents, sisters, brothers, granmas, granpas…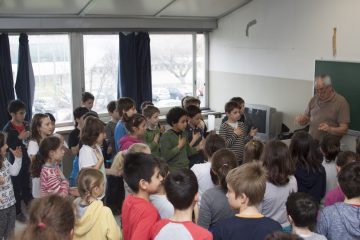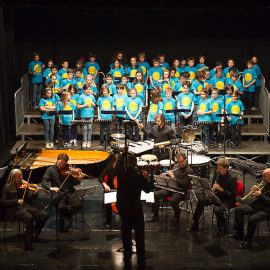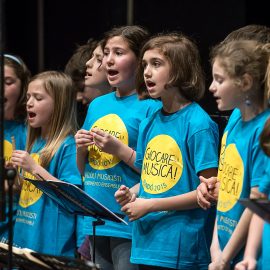 photos @ Divertimento Ensemble/ Giovanni Daniotti

The two scores for children and ensemble will be rerun in Brussels one year later: a group of belgian kids will begin a workshop in September 2017 and play/sing the two pieces in May 2018 with the ensemble Musiques Nouvelles.
The Brussels rerun continues a "traditional" collaboration within the Ulysses network, between the Flagey Festival in Brussels and Divertimento Ensemble in Milan: in the past four years the two institutions have already shared four more compositions for children and ensemble (composers: Daniele Ghisi, Federico Gardella, Hanne Deneire and Karl Naegelen) and a new soundtrack for the film by Alfred Machin Maudite soit la guerre (1914).
Enregistrer
Enregistrer
Enregistrer
Enregistrer
Enregistrer
Enregistrer
Enregistrer
Enregistrer
organized in partnership with
Flagey - BE