Young singers' workshop Brave New World
10/2017
EPCC - EE
The Estonian Philharmonic Chamber Choir (EPCC) organizes an open call for applications for a competition for young singers.
The selected participants are invited to participate in workshops and projects with the professional singers of the choir under direction of Kaspars Putniņš and the vocal coaches Kaia Urb and Allan Vurma during the season of 2017/2018.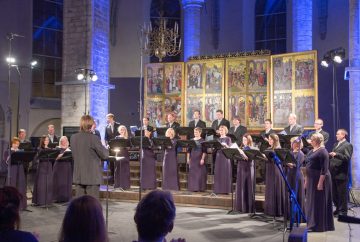 © Peeter Langovits/ EPCC
Schedule 2017:
January – announcing the competition and requirements;
April – deadline for applying and sending demos.
3-15 October – workshops, lectures, rehearsals and concerts in Estonia:
3 October Arrival
4-7 October – Individual voice coaching; lectures on Estonian choral music and on Rachmaninov and his choral pieces; workshops on Russian pronunciation
8 October – Day off
9-12 October – tutti rehearsal with the choir
13 Oct Concert 6 p.m. Narva Castle,
14 Oct Concert 7 p.m. Tallinn Niguliste Church,
15 October departure
More information about the EPCC here.
Enregistrer
Enregistrer
Enregistrer
Enregistrer
Enregistrer
Enregistrer
Enregistrer
Enregistrer
Enregistrer