ULYSSES Audience Research Blog #9 – Divertimento Ensemble at the Fabbrica del Vapore, Milan (IT)
05/2018
Divertimento Ensemble – IT

This week, my Audience Research trips continued with a visit to Milan's Fabbrica del Vapore to survey a concert by the Divertimento Ensemble. On the programme were five recent compositions, including one with a very special twist. Gabriele Manca's Lettres comme à l'envers ('Like letters in reverse') was written to feature the ensemble's amateur choir, the New Voices of the Divertimento Ensemble. This is just one of various different outreach/educational projects that the Divertimento Ensemble organises and I was very excited about including this concert in the survey in order to assess the impact of an initiative like this.
The survey was met with an enthusiastic response from the roughly 160 audience members present, totalling 100 returned questionnaires. A quick read-through of the answers suggests that many people were motivated to come because they knew a member of the New Voices choir. A number of these spectators were either new to the Divertimento Ensemble or new to attending a contemporary classical music concert – an indication that a project such as this can bring fresh faces to an institution's audience. I spoke to some of the ensemble members at their rehearsal on Monday, all of whom talked very positively about their experience, whilst also acknowledging the challenges of performing new music (the majority of the choir had little to no musical background). Some were already committed Divertimento audience members, others not. It was really nice to see how a community had formed around this participation, providing an example of the benefits of engaging the public actively in producing contemporary classical music.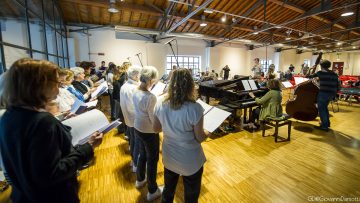 It will be interesting to analyse this audience's responses to the other works on this programme, which may have posed some challenges. I've already noted a few answers that recount difficulties in comprehension and finding it hard to pay attention. The range of different associations with contemporary classical music is another aspect that I'm looking forward to analysing here, along with its relationship to people's motivations to attend.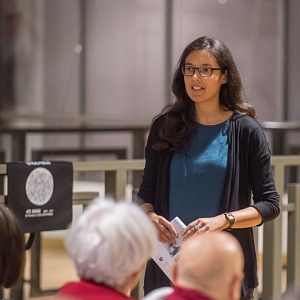 all photos © Giovanni Daniotti
organized in partnership with
HfMT- DE