ManiFeste 2017 : Masterclasses for performers + ULYSSES Ensemble
06/2017
Ircam – FR
IRCAM's multidisciplinary festival and academy, ManiFeste, the rendezvous for creation in Paris, places music in disciplines beyond the concert: theatre, dance, digital arts, visual arts. 120 young composers and performers from the world over take part in the academy every year.
In 2017, the academy invites the composers Chaya Czernowin, Toshio Hosokawa, Alberto Posadas, the Quatuor Diotima, les soloists from the Ensemble intercontemporain (ensemble associated with the academy), and the Orchestre Philharmonique de Radio France.
The ManiFeste academy takes place from 19th June to 1st July. It offers several opportunities for young performers. For these two master classes, IRCAM will host performers selected for a ULYSSES Journey and the ULYSSES Ensemble:
# String quartet master class:
The Diotima quartet offers young quartets the opportunity to work on the stunning 4th string quartet with electronics by Jonathan Harvey as well as quartets from the 20th century in connection with the theme "Music and Painting" the same theme used for a new hanging of the collection's works in June 2017 called "L'oeil écoute".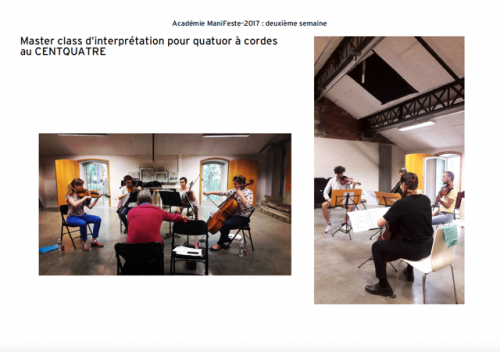 The participants present a final concert on 30th June 2017 at Centquatre, Paris.
°The young Italian quartet Quartetto Maurice has been selected to participate in this workshop in the framework of the ULYSSES-Journeys
# ULYSSES Ensemble master class: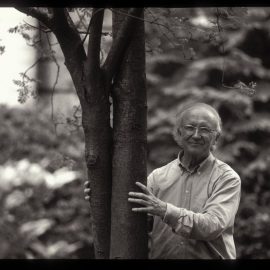 © Julieta Schildknecht
The Swiss composer and conductor, Heinz Holliger, will teach an interpretation master class for the ULYSSES Ensemble with the assistance of the soloists from the Ensemble intercontemporain, who will work alongside the students and soprano Maria Sarah Sun.
At the end of this master class, the ULYSSES Ensemble performs the ManiFeste-2017 Academy final concert on 1st July at Centquatre, Paris,
before continuing its journey at Snape Maltings, the home of Aldeburgh Music (GB)
and at the Royaumont Foundation (FR).
Musicians of the ULYSSES Ensemble participating to the workshop and concert in Paris:
Zach Sheets, flutes
Hanna Weisbach, oboe
Rocío Bolaños, clarinets
Gleb Kanasevich, clarinets
Hae Won Oh Kim, bassoon, contrabassoon
Daniel Brottman, horn
Chloë Abbott, trumpet
Antonio Jiménez-Marín, trombone
Kaja Farszky, percussion
Corentin Marillier, percussion
Aleksandra Dzenisenia, cymbalum*
Alice Belugou, harp
Rahel Schweizer, harp
Baptiste Ramond, guitar
Perrine Galaup, mandolin*
Daniele Fasani, keyboards
Magdalena Cerezo Falces, keyboards
Jacobo Hernandez Enriquez, violin
Véronique Mathieu, violin
Alfonso Noriega, viola
Emilie Girard-Charest, cello
Nazarii Stets, double bass
*additional musician
Enregistrer
Enregistrer
Enregistrer
Enregistrer
Enregistrer
Enregistrer
Enregistrer
Enregistrer
Enregistrer
Enregistrer
Enregistrer
Enregistrer