Opus XXI – Summeracademy 2017
08/2017
HfMT – DE
The annual Summeracademy Opus XXI for contemporary music takes place from August 02nd until August 11th 2017 in Trossingen (DE), with the local Musikhochschule as cooperating partner.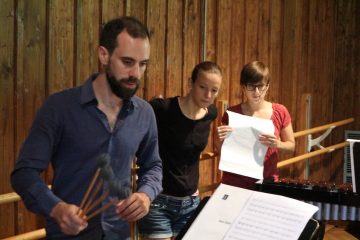 © OPUS XXI
Once again a selection of young performers, vocalists, conductors and composers have the chance to work and rehearse together intensively to prepare a selection of musical compositions. Two of these compositions have been commissioned exclusively for Opus XXI:
A composition from Zesses Seglias (GR), whose opera "To the lighthouse" is premiered at the Bregenzer Festspiele 2017.
Another piece has been commissioned from Bertrand Plé by both Opus XXI and the Ensemble Divertimento (IT) in the framework of the ULYSSES Network Commissions. Plé's composition for small ensemble with the title "So oder so und so weiter" is premiered at the final Opus XXI-concert in Bregenz this year and will be performed next year in a concert attached to Ensemble Divertimento.
Another artist who contributed a composition for small ensemble – "transcience" – is Mioko Yokoyama (JP), who is taking part in this year's Opus XXI as another ULYSSES-Journey Composer.
Martin Grütter's piece "Siebenkreiswerk" is rehearsed and performed by the participants of Opus XXI 2017, while waiting for a new work, that Grütter will  be delivering for Opus XXI in 2019.
Composer in residence is the composer Miroslav Srnka (CZ), whose compositions have stirred the musical scene lately and whose "….Les Adieux " is rehearsed and performed by the students.
As Ensemble in Residence the French ensemble L'Instant donné works with the students, and the members of the ensemble share their experience with the participants of Opus XXI.
Aurelien Azan Zielinski takes part in the Summeracademy as conductor and work on the pieces with the students. Also the singer Donatienne Michel-Dansac rehearses with the students and will perform the piece "La nuit en tête" by Georges Aphergis together with L'instant donné at the final concert in Bregenz.
The line-up of young performers for this year's academy again is also more than promising. Two of the commissioned pieces include a saxophone, which is played by Asya Fateyeva (RU), who is participating in this year's academy and was awarded with an ECHO Klassik 2016 as "Nachwuchskünstlerin des Jahres" (upcoming musician of the year).
Other participants are Simon Edelmann (conductor), Louise Leterme (voice), Stefanie Flaig (voice), Kateryna Vasilijeva (flute), Natalia Urbanelli (oboe/english horn), Cristian Cardenas (oboe/english horn), Ji Feng (clarinet), Grace Andrianjatovo (bassoon), Cecile Bugner (horn), Chen-Lun Huang (trumpet), Cornelius Hussing (trombone), Lucie Delmas (percussion), Justine Eckhaut (piano), Sophie Steiner (harp), Katie Meibaum (violin), Anne Lise Binard (viola), Johanna Hetzler (viola), Charlotte Lorenz (cello), Pierre Dekker (double bass).
Besides working on several musical compositions the students also have the chance to take part in improvisational and performance-courses, that are led by an international team of instructors.
There is one public final rehearsal scheduled in Trossingen on August 10th preceeding the final concert of Opus XXI 2017, which takes place in the context of the "Bregenzer Festspiele" on August 11th.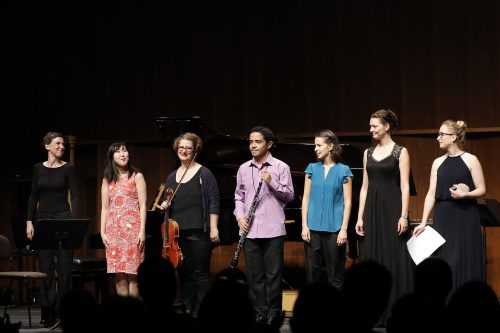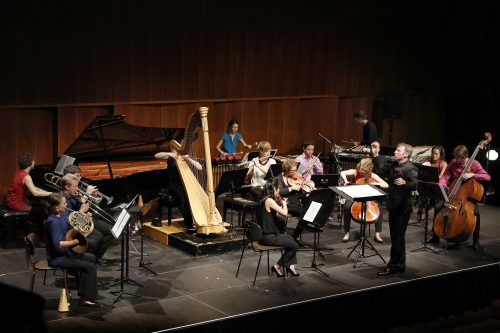 © Bregenzer Festspiele / Anja Köhler
Further information here.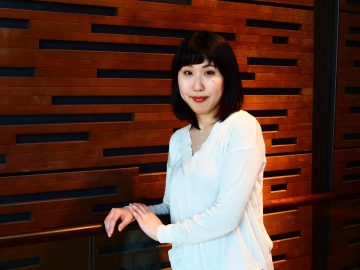 ©  Ayako Higurashi
Enregistrer
Enregistrer
Enregistrer
Enregistrer
Enregistrer
Enregistrer
Enregistrer
Enregistrer
Enregistrer
Enregistrer
Enregistrer
Enregistrer
Enregistrer