Trio Accanto – Workshop with composers and instrumentalists
02/2017
impuls – AT
After Time of Music in summer 2016 also impuls is hosting Trio Accanto, one of the most prestigious chamber music formations dedicated to contemporary music. The trio has premiered more than 70 works and now offers the rare chance to participants of impuls 2017 to work with them (both composers and instrumentalists are addressed for this program).
As first step impuls was calling for scores amongst the composer participants of the impuls Academy 2017. From the pieces handed in Trio Accanto selects compositions to both work on and perform itself, but also to be studied and presented by instrumentalists participating in the Academy.
Workshop with impuls instrumentalists and composers:
Main preparation period: February 12th-19th, 2017, KUG, Graz
Concert with impuls Academy instrumentalists: February 19th, 2017, KUG, Graz
20.-21.2.: reflection and feedback period
Concert Trio Accanto + Stefan Prins:
February 16th, 2017, 20.00, MUMUTH, Ligeti-Saal, Graz (concert in cooperation with open music)
Vasiliki Legaki Avoidance, 2016, world premiere
Mark Andre durch, 2004/2005
Misakii Goto Shedding, 2016, world premiere
Wolfgang Rihm Gegenstück, 2006
——-
Stefan Prins Mirror Box (Flesh + Prothesis #3), 2014, Austrian premiere
Marcus Weiss saxophones | Nicolas Hodges piano | Christian Dierstein percussion
+ Stefan Prins electronics
More information available here.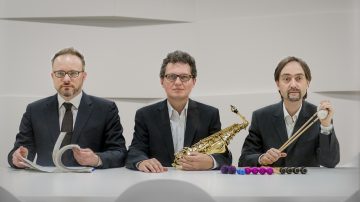 © Marc Doradzillo
In the framework of their ULYSSES-Journey, the selected performers
Jacobo Hernández Enriquez violin (Spain, 1989)
and
Antonio Jiménez Marín trombone (Spain, 1989)
also participated to following concerts during the impuls academy and festival 2017:
Enregistrer
Enregistrer
Enregistrer
Enregistrer
Enregistrer
Enregistrer
Enregistrer
Enregistrer
Enregistrer
Enregistrer
Enregistrer
Enregistrer
organized in partnership with
Time of Music - FI