Conducting Course @ Divertimento Ensemble
09/2017
Divertimento Ensemble – IT
Repertoire for ensemble from early 20th century to the present day
A project of Divertimento Ensemble, Milan (IT)
Course dates: Moncalvo (Piedmont, Italy), September 9 to 16, 2017
Concerts in Piedmont: September 16, 17, 18
Concert in Milan: Teatro Litta, September 20, 2017
The XIII edition of the Conducting Course organised by Divertimento Ensemble will take place in Moncalvo, Piedmont, from September 9th to 16th, 2017.
From September 14 onwards the composer Marco Di Bari will attend, as tutor, the reharsals of his composition.
Four concerts, all performed in the frame of the 2017 Rondò concert season, will follow from Sept. 16th to 20th and will be conducted by different students.
The Course will be realized in synergy with the master class for vocal chamber repertoire from the second half of the 1900s to the present day (teacher Alda Caiello, Call for Young Performers 2017 / Voice, Piedmont, September 4 to 16, 2017). The repertoire for voice and ensemble of the master class and the one of the conducting course are the same: the singers, selected among those who will partecipate in the masterclass, will work (and perform in the concerts) together with the musicians of Divertimento Ensemble and the conductors of the conducting course.
°ULYSSES-Journey-Conductors selected for this workshop : Nestor Bayona (Spain 1985) and Jonas Rannila (Finland 1989)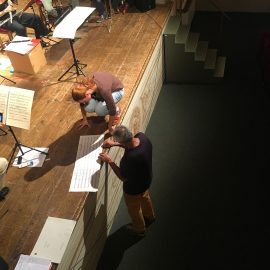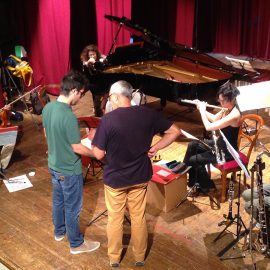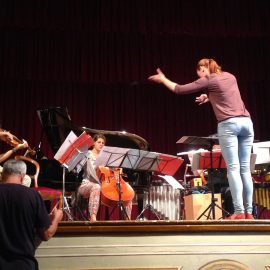 photos © Divertimento Ensemble
Course repertoire:
György Ligeti Aventures for voices and ensemble (1962)
Luciano Berio Folk Songs for soprano and ensemble (1964)
Marco Di Bari Sea's widows, Nésas Séknus for soprano and ensemble
Brian Ferneyhough Flurries for ensemble (1997)
Teacher: Sandro Gorli
Tutor: Marco Di Bari
Ensemble in residence: Divertimento Ensemble

More information here.

Enregistrer
Enregistrer
Enregistrer
Enregistrer
Enregistrer
Enregistrer