Masterclass for young pianists – Final concerts
05/2017
Divertimento Ensemble – IT
Workshop for Young Performers / Piano
A project of Divertimento Ensemble, Milan (IT)
Schedule: from December 2016 to May 2017
Workshop at Fazioli Showroom – Concert at Teatro Litta on May 17th, 2017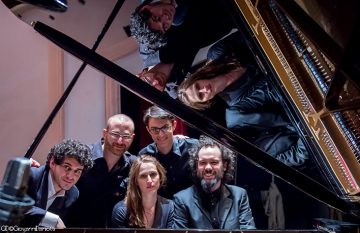 Young Performers / Piano takes off. Twelve Italian and European young pianists will attend the master class held Maria Grazia Bellocchio, focused this year on György Kurtág's piano compositions.
After 8 lessons from December 2016 to May 2017 the pianists will present their work in four concerts in May in Milan, Trieste and Novara, as follows:

Wednesday, May 17th – Milano (IT), Teatro Litta, corso Magenta 24
Hommage to György Kurtág (1926)
Játékok (1973-2010) selection
Eight pieces for piano op. 3 (1960)
Splinters op. 6/d (1978)
Transcriptions from Johann Sebastian Bach
Milan (IT), December 5th, 2016: The VI edition of the Call for
Pianists selected by the project Call for Young Performers
 – Piano
Riccardo Bisatti
Erik Bertsch*
Raffaella Calia/Elisabetta Galindo Pacheco (in duo)
Giacomo Carnevali
Alessia Cecchetti
Magdalena Cerezo Falcez*
Daniele Fasani
Giovanni Galletta
Luigi Antonio Nicolardi/Erika Rita Paganelli ((in duo)
Giorgio Pesenti
(Teacher: Maria Grazia Bellocchio)
* Pianists chosen by the ULYSSES Network in the framework of their ULYSSES-Journey
Játékok by György Kurtág collects hundreds of short piano pieces for two and four hands that are divided into eight volumes. The work originated in 1960, a year in which he composed a few songs for his son. Thirteen years later he wrote another series of nineteen pieces in addition to those written for his son. Since then, writing Játékok has become a lifelong project for Kurtág. He wrote that the work was "inspired by the child who forgets himself while playing, the child for whom the instrument is still a game." In Hungarian, the word Játékok indeed means games.
Kurtàg certainly did not want to write a method to develop keyboard technique with Játékok, but on the contrary, his intention was to stimulate the curiosity of the young pianist, to foster his freedom and joyfulness, to encourage his immediate involvement in the experience of sound, the ability to hear the sounds produced, and, above all, to express emotion.
Maria Grazia Bellocchio writes: "In Játékok one can find small formulas and few notes, in which Kurtág seems to pour out his life. It is likely that in these pieces, which are like a diary, he has transferred memories: the thinking of a person, the memory of a composer or of a dance, and pain or mourning. Kurtág has a certain imagination and intensity that helps him translate everything he sees and hears into music.
"
The young pianists performing in this concert attended the masterclass of Maria Grazia Bellocchio, which started in December 2016 and is entirely dedicated to the piano work of Kurtág.
Two pianists selected by the ULYSSES Network attend the workshop: Magdalena Cerezo Falcez, Spanish living in France, and Erik Bertsch, Italian/Dutch living in Rome.
Further concerts:
20th May – Trieste, Museo Revoltella, in collaboration with Chromas Associazione Musica Contemporanea
21st May – Milano, Museo alla Scala, Festival Pianocity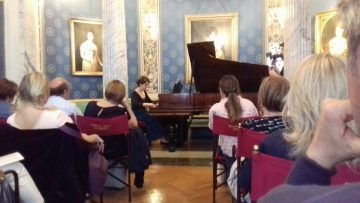 © Divertimento Ensemble
27th May – Novara, Conservatorio di Musica
Further information here.
Enregistrer
Enregistrer
Enregistrer
Enregistrer
Enregistrer
Enregistrer
Enregistrer
Enregistrer