ULYSSES Audience Research Blog #12 – Voix Nouvelles Festival at Royaumont Abbey (FR)
09/2018
Royaumont foundation – FR
My latest Audience Research trip took me back to France, this time to Royaumont Abbey. Situated in Asnières-sur-Oise, 30km north of Paris, this 13th century monastery is the (very picturesque) setting for the annual Voix Nouvelles Academy. Here, young composers and performers work closely together for around three weeks, presenting new pieces to the public on the final weekend.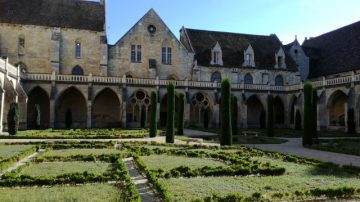 I conducted the survey at this concert on the Saturday afternoon, which featured seven premieres by Academy composers from all over the world. The performers were from professional ensembles, a mix of players from the Israeli Meitar Ensemble and singers from the English vocal group Exaudi. This made for a lot of variety in instrumentation, ranging from a solo prepared piano piece to works for solo singers with instruments and concluding with two works for six voices.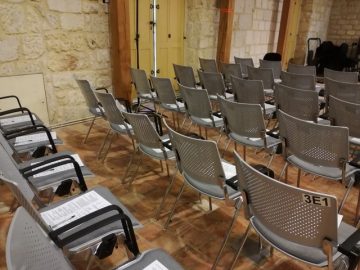 Of the 100-120 audience members present, 67 handed questionnaires back in, a good response for this quite small concert. The organisers mentioned that they were uncertain about who exactly would come; outside of Voix Nouvelles, Royaumont does not put on a lot of contemporary classical music and there isn't really an established new music audience there. Looking through the responses, it seems as if a lot of the audience attended to spend time with friends and family, most likely as part of a day out at the abbey, or were motivated to try something new. This puts Royaumont in a similar situation to Snape Maltings (where I conducted two surveys at the Aldeburgh Festival last year), in that it primarily receives visitors that are interested in the location who then might decide to attend an event. In keeping with this profile, a number of attendees hadn't previously been to a contemporary classical concert and therefore seemed to find the repertoire challenging. 'Far too abstract for me' and 'too scientific and abstract' were comments from some of these respondents. Another audience member commented that 'this music does not speak to me, despite the very high quality', indicating that audiences sometimes receive works on contrasting levels, appreciating the quality of a work separately from their instinctive 'like or dislike' response to it. That said, others enjoyed the variety of pieces on offer, in particular the different compositions for voice.
As usual, plenty more to explore in the analysis. In two weeks time, I'll be heading to Oslo for my final audience research stay, the data collection is almost complete!
photos © Gina Emerson