IEMA Composers Seminar 2017
04/2017
IEMA – DE
For the fourth time the The Internationale Ensemble Modern Akademie offers in cooperation with the Gaudeamus Muziekweek a composition seminar.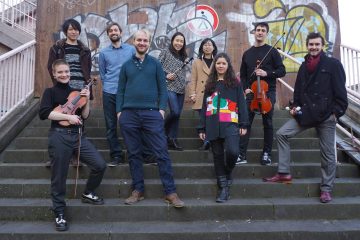 © Marie-Luise Nimsgern
The IEMA-Ensemble 2016/17 – students of a master degree course run by Ensemble Modern in cooperation with the Musikhochschule in Frankfurt am Main / Germany – will work with 4 composers on their new pieces, where they get  the opportunity to create world premieres in 2 steps:
All 4 composers come 24th to 26th April to Frankfurt for first try-outs and getting acquainted to the IEMA-Ensemble.
After finishing their pieces,  the main rehearsals will start in the beginning of September, the premieres of the pieces will be presented September 8 in Utrecht/Gaudeamus Muziekweek. Reruns will follow in Frankfurt and Karlsruhe in the midth of September.
In addition, 2 musicians recommended by the ULYSSES Network get the opportunity to take part in this project and playing together with the IEMA-Ensemble as well as a Koto player!
This work-in-progress will be guided by the experienced members of Ensemble Modern and the conductor Lucas Vis.
Composers being selected by the ULYSSES Network:
Genevieve Murphy (*1988, U.K. / Scotland)
Maya Verlaak (*1990, Belgium)
Composer recommended by Gaudeamus Muziekweek:
Utku Asuroglu (*1986, Turkey)
and IEMA's choice is to presen:
Yukiko Watanabe (*1983, Japan)
Musicians recommended by the ULYSSES Network (ULYSSES Journeys) and being part of the project:
Lorenzo Colombo (* 1990, Italy) – percussion
Jacobo Hernández Enríquez (*1989, Spain) – violine
Schedule and concerts within this project
24.-26. April 2017 try-outs / workshops in Frankfurt
Beginning of August might be more rehearsals
5.-7. September final rehearsals in Frankfurt
8. September 2017 world premieres at Gaudeamus Muziekweek (venue and time t.b.c.)
Later in September: 1 concert in Frankfurt at the Hochschule für Musik und Darstellende Kunst Frankfurt am Main (date t.b.c.) and 1 concert at the ZKM in Karlsruhe (date t.b.c.).
Further information here.
+++
The International Ensemble Modern Academy (IEMA) was founded in 2003 as Ensemble Modern's training centre, pursuing the goals of educating musicians and audiences about contemporary repertoire and identifying new forms of artistic and creative work today. The education and further education formats developed with various partners have very different target groups. Through regular projects in Frankfurt's schools (›CultureDayYear‹), intensive courses as part of the excellence programme ›Jugend musiziert‹ and offers for professional musicians via international master courses, IEMA pursues its mission, passing on to coming generations the knowledge and broad range of experience Ensemble Modern has gathered over many years. Furthermore, it is the only institution to present the International Composition Seminar for composers and conductors. The main focus, however, is on the one-year Master's programme, offered in cooperation with the Frankfurt am Main Academy of Music and the Performing Arts, where instrumentalists, conductors, sound directors and composers work with members of Ensemble Modern and renowned composer and conductor personalities on 20th- and 21st-century repertoire. The results of this work are presented by the IEMA Ensemble of the current year in 30 concerts per year, performed in Germany and abroad. Thus far, 200 graduates have been able to take advantage of this study programme, which is unique throughout the world.
You can also follow IEMA on facebook.
Enregistrer
Enregistrer
Enregistrer
Enregistrer
Enregistrer
Enregistrer
organized in partnership with
Gaudeamus - NL