Academy Voix Nouvelles 2017 for composers and performers
08/2017
Royaumont foundation – FR
The Académie Voix Nouvelles is open to composers and performers wishing to hone their skills in the interpretation of the contemporary repertory.
For composers, it recreates the complete process of creation of a new work, in professional conditions: commission, composition, rehearsals, concert, under the supervision of internationally renowned tutors belonging to different aesthetics. It calls on the leading ensembles to rehearse and perform the works and to advise and interact with the composers.
The performers will benefit from the advice of the expert musicians of the guest ensembles in individual classes rehearsing chamber or solo repertory. They will make up an ensemble that will rehearse and perform in concert emblematic works from the contemporary literature as well as some of the work produced by the composers of the workshop.
In its duration and its exceptional working conditions, the academy constitutes a unique forum for exchanges between composers, performers and thinkers. Several specialists in the domains of management, musical production economics, author rights, the record industry, radio and journalism will also be invited.
In 2017, the selected participants work with following tutors and guest ensembles:
Mark Andre, Philippe Leroux, Alex Mincek
Juliet Fraser, Quatuor Tana, Ensemble Multilatérale, Léo Warynski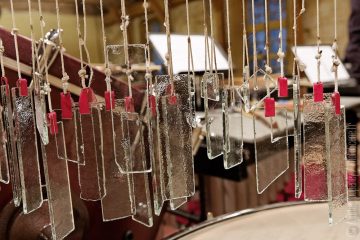 © Fondation Royaumont
Schedule:
For composers – from 21 August to 10 September 2017
for performers – from 30 August to 10 September 2017
PUBLIC PRESENTATIONS
1 September – 18.00 – FSC – Soloists Voix nouvelles
8 September – 17.00 – FSC – Ensemble Voix nouvelles
9 September – 17.30 – FSC – Composers I
10 September – 15:00 –FSC – Composers II
Participants:
COMPOSERS
Boris BEZEMER (NL) ULYSSES-Journey
Matthew CHAMBERLAIN (USA)
Shiuan CHANG (TAIWAN)
Daniel CHAPPELL (GB)
Sivan ELDAR (ISRAEL)
Cengiz EREN (TURKEY)
Tatiana GERASIMENOK (BELARUS)
Mizaki GOTO (JAPAN)
Jonah HAVEN (USA)
Annie HUI-HSIN HSIE (AUSTRALIA)
William KUO (CANADA)
Shih-Wei LO (TAIWAN)
Fernando MUNIZAGA  (CHILI)
Alex STEPHENSON (USA)
PERFORMERS
Madison GREENSTONE (USA ) clarinet
Alina TRAINE (ARGENTINA) harp
Victor HOCQUET (FR) percussion
Nina KAZOURIAN (FR) viola
Mimi DOULTON (GB) soprano
Zach SELLY (USA) conductor
Michiko SAIKI (JAPON) piano
Pauline VUILLERME (FR) violin
Elsa DORBATH (FR) cello
Kathryn WILLIAMS (USA) flute
Enregistrer
Enregistrer
Enregistrer
Enregistrer